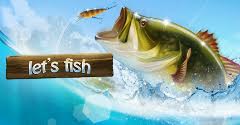 Fishing fans, this is one of the most popular, most played and most challenging fishing online game ever Lets Fish! If you are bored and want to play some high-quality and the most realistic fishing game then you are definitely in the right place because this is the right game for you! This Let's Fish game is absolutely free, with no installation, you need only a quick registration and you will be able to access this fantastic fishing game, or you can Log In in this game using your Facebook account, it's the most efficient and fastest way. Let's start, fishing rod is most important part of your tackle, every rod has a certain weight limit, the higher the limit, the bigger the fish you can catch.
When you choose a line it's best to match your line strength with your rod strength and when you choose your hook then it's best to match the strength of the hook with the strength of your rod and line, try to remember that.
Every bait is for certain fish that you want to catch so the kind of fish you going to catch depends on the bait you choose. When you catch the fish you'll be able to see the weight of the fish, the experience you earn and the price of the fish. With the money you earn catching fish you can buy and upgrade your fishing tools to more effectively, better and to more easily caught a fish, some fishing equipment that you can improve are: Super Rod, with that rod you can catch and land fish up to 5kg, than you can upgrade your Super Rod to Power Bonus, that enable you to catch fish bigger by 50%, you can improve a special groundbait for the larger fish, you can unlock and buy Leader for float rods, this leader will improve your rod by 5kg, that means that you be able to catch fish 5kg bigger than usual with it! You can buy special bait for the Gold crucian carp, you can buy even a bread and pasta that are available to you in level 5 of Lets Fish game.
You can buy everything you need for fishing when you earn money. You can make a Trophie with the fish you catch. You will have even a backpack, all of your items you buy will be in your backpack, if you want to change something in your fishing tool you can do that in your backpack. With map you can choose the place where you want to catch a fish, just click on the map and choose the place you like to go. This Let s Fish game is free online fishing game so you can check your ranking and the ranking of your friend and other players from all around the world. Every day you will get a daily gift, you just need to log in every day to get gift and you get banknotes every 7th day, banknotes need you for playing a champions and for lots of other stuff.
About Let's Fish Game
In the start you can catch a fish at the 5 incredibly beautiful destinations, each of which is done very realistically, with stunning graphics, sound effects of nature around you, and the voices of various animals, with this lets fish fishing game you can experience incredibly realistic experience. If you like hunting grate game like lets fish is Lets Hunt
Winter Lake is one of the place you can catch a fish, you can catch a various kind of fish there, next is Small Lake, it's a great place to learn fishing basics, Myriad Bay is perfect for beginners, Matthew River is best for amateurs and finally the calm Corner that is a spot for real fishing champions. Later in the lets fish game you can catch the fish in the places all around the world, North America, South America, Europe, Africa, Asia, Antarctica and Australia, to go to this places you will need a Banknotes, the types of fish you can catch are huge. You can even take a part in a tournament, your task will be to catch the biggest fish, earn points for the weekly ranking for the best angler and win great prizes in let's fish!
You can play 3 different tournaments, Float tournament, Spin fishing tournament and sea fishing tournament.Every 30 minutes you will get a special offer. Every day you will get a gift, free pieces of fishing equipment and much much more, go to this amazing fishing adventure, take home championships, catch the biggest fish, sell fish, improve and upgrade your fishing equipment to make you catch fish faster, better, and more easily, and become best fishermen among the best in this fantastic lets fish game! This game is a great choice if you want to get rid of stress, to forget about problems in the work and problems of everyday life, this game is anti stress game, everyone love lets fish and especially lovers of fishing games will definitely like this game. We wish you great adventure and good fun in this fantastic fishing online Let's Fish game!
Instructions: Register or use your Facebook account. Use mouse to play. When the float disappears underwater, click "Pull" To catch the fish you have to pull the float into the circle marked with an arrow.