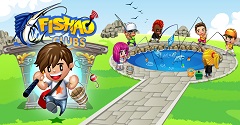 Welcome to Fishao game! Create your avatar in the way you want, make him a hairstyle to your liking, hair color, clothing, body shape and more. At the beginning of this fantastic, exciting and addictive Fishao game you need to register, after that the game can begin, this game is absolutely free, no need to install just a quick registration and the fun can begin. In the first field in register, type your username in the other two fields type your password in the fourth field type your email address. After registration, choose the world in which you want to play, you are offered a large number of countries, select your country or a country near yours. Select a city where you want to be. After completion of each task, you can get a coin. At these places you can hunt seals and fish, you can sell the fish and thus earn coins which with you can buy various items of fishing equipment to the items and clothing for your avatar.
After a long play you will be able to unlock other cities in Fishao game. Aci is a fish that will not give you a specific mission for which you will receive various prizes, you have two types of missions, global missions and missions in the area. This is an online fishing game fishao and adventure meaning that you will play this fishing game with the players all around the world which is more fun, challenging and exciting. Your tasks will be varied, in some tasks, your mission will be to collect a certain number of shells or to find a specific place to fish, to talk to bots and other players and much much more. After 5 levels in fishao you can go to tournaments and compete with other players. In the store you can buy fishing rods, baits of various kinds and various booster that can help you fishing and much more.
In the Fishao Game you progress by solving missions and thus get bigger and bigger level. This fishing game was made in every detail, in this fishao game you have all the fun, advancement, enjoyment and relaxation. Advance, unlock other cities, catch a variety of fish species, do missions, earn coins, buy better equipment for fishing, help other players, compete in tournaments and win! We wish you good luck and success in this incredible and fantastic online phishing game! Instructions: USe mouse to play.