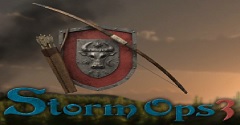 Storm Ops 3 is one of the best game when it comes to bow, arrow and defending because in this shooting game you can build structures, you can train units, you can customize, create a plan of attack and defense of your castle, you can buy new weapons for yourself and your archers like stronger bow and more powerful and deadly arrows. This game will fulfill your day with fun especially if you are a fan of archery games including defense games. In this archer shooting game you can also unlock all kind of cool achievements like: "Bullseye", which means that you need to hit each target right in the center, "Friend Of Nature" you can unlock if you let all the boars live, for "Marksman" achievement you need to get 5 headshots in a row, for "Spotter" you need to mark 5 targets for friendly archers during a single battle, "High Explosives" kill 5 enemies in a single explosion, "Open Fire" hit 20 cart torches, "An Adventurer Like You.." let an enemy with a knee injury to escape, "300" kill 300 enemies, "Flawless" finish a wave before any damage is done to the gate and the last one, "Siege Survivor" survive for 25 days which is your main task in this shooting game.

How To Play Storm Ops 3
You will first start a tutorial that you can skip if you want but we recommended you to do a tutorial because shooting from bow and arrow can be tricky if you don't have skills. In the tutorial your task will be to hit 5 standing targets, you will get bonus points for hitting a target right in the middle. After target practice you will need to shoot boars but they will not be in standing position, they will run so give your best and prove how good you are with the bow and arrow as a main weapon in this unblocked shooting game! In tutorial you can learn the basic of using Bow and Arrow and shooting from it.
After the tutorial you will be ready to defend your castle that will be attacked by enemy archers and other units, you will also be able to manage the castle defense from the screen. You can click on the armory using your mouse to customize your load-out or click the gate tower to manage gate repairs. It's also important to use garrison that is stationed in your base, you can train your garrison from the money you earned killing enemies in order to make their actions more effective. With the money you earn you can also improve and upgrade the defense abilities of your castle, that is very important to do from time to time in order to survive 2 days and to make yourself easier to defend the castle.
Defense Castle
Your castle is under siege and you need to hold for 25 days of constant attacks because after 25 the reinforcement will arrive to help you but until then you need to survive and to defend your castle. You will see a secret path that is connecting that place with the castle. If you are not satisfy with the graphic quality you can change it in the game menu, you can choose Low and High, also you can turn music off and on. In the armory you can buy new and much stronger weapons and you can customize your weapons. Each of those weapons have their stats: Accuracy, Damage and Arrow Velocity, the bigger stats. the better so pay attention on that, you want to kill you enemies faster and easier than upgrading your weapons is the right way for that. Recruiting more archers to defend your castle is also an option if you have enough money.
Building meadery will grant you the ability to bring mead to your position, it will boost your morale, triggering instakills on your every shot for a limited amount of time. If you find yourself in a trouble or enemies start breaching your castle, you can always use your support like Catapult, Alchemy and More Catapults. These support catapults are also costing money but they can blow up your enemies into pieces and they can help you a lot in surviving 25 days. Enemies that will attack you will be Archers, Swordsman, Cavalry and many others, before each battle you will be able to see which type of enemies will attack your castle and you can read about them and that is important in order to find their weak spot, each unit have a weak spot and finding it can be a game changer for you, bringing you closer to victory!

Final Words For Storm Ops 3
What makes this Storm Ops 3 shooting game so special is that you have so many things that you can do expect shooting people with arrow, you can manage entire defense in our castle choosing which building you want to build, units to improve and catapults to send. In each battle enemies will come from the left side of your screen and your task will be to prevent them reaching the other end, kill as many of them as possible using your bow and arrow, prove how good shooter you are and show your archer skills in this best shooting game!
Hitting enemies in the head with an arrow will grant you a bonus points meaning more money for you which is always good so always aim for the head. Enemies will not stand and wait for you to shoot them so you will need to predict where the arrow need to go before releasing it in order to hit your target, that is realistic and it's something that makes this online shooting game special. After each battle you will see how many shots you had, number of wounding shots, your accuracy and total number of gold you earned.

Instructions:
Use mouse to aim and to Shoot.
1,2,3-Select Garrison Action.
Spacebar-Cancel Shot.
Q-Swap Quivers.
M-Mute.
Esc-Menu.
O-Quality.