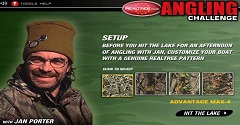 Welcome to Angling Challenge! At the beginning of this excellent 3D fishing game select one of four places for fishing: Hardwoods, Hardwoods green, Advantage timber and Advantage max-4. Enjoy excellent 3D graphics and stunning sound effects of nature around you while you fishing. Get in your boat that you can custom as you want and select a place on the lake where you want to catch fish. Throw your fishing rod and go hunting! Keep tension from getting too high or too low by adjusting your click speed. The game is suitable for all ages especially for fishermen because of this excellent 3D game you gonna have true fishing experiences. We wish you great fun!
Instructions:
Use mouse to play
Use arrow keys to maneuver Jan to the perfect fishing spot.
Press A to enter angling mode.
Use mouse to reel
Hit space when you get a strike.