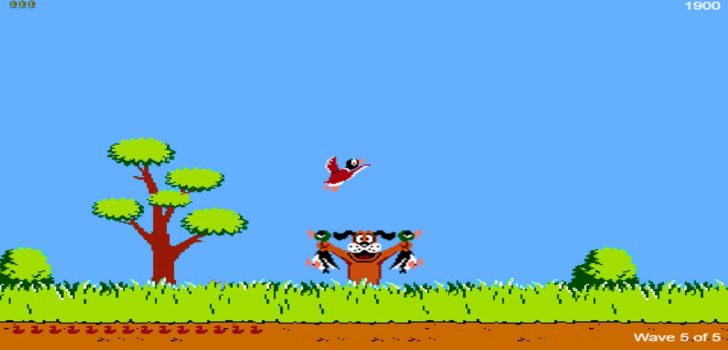 DUCK HUNT REMAKE
Duck Hunt Remake is an extension of this old, but still popular hunting game in which your task is to shoot the flying ducks that will come from all directions. You need to shoot them down, as many as you can. In the original game you used hunting rifle from which you was able to hear a sound of a bullet, but in this online Duck Hunting Remake game, instead of the sound of a bullet you will hear a voice from a guy saying "Bang" each time that you shoot at the duck. When you miss the duck a dog will come from the grass and he will start laughing, in that moment you will hear the sound of a laughing guy representing the laughing of a dog, those sound effects are really cool and they will make you laugh while having fun hunting the ducks.
Each duck that you shoot will bring you certain amount of points and your task is to shoot as many ducks as possible and in that way make the best score! Ducks will come out from the grass in waves, in the first level you will need to shoot 3 waves of ducks in order to go to the next level where you will need to shoot down 5 waves of ducks and so on.
On the start of each level your hunting dog will first search for the ducks, when he find them he will jump into the grass and in that moment, ducks will start flying in all direction and you need to react fast and to shoot them down as fast as possible before they fly away. Prove how good hunter you are in this epic Duck Hunt Remake that you can also play from your Mobile devices, your Android phone, your Tablet or Iphone for free!
Instructions:
Use mouse to Aim and to Shoot the ducks.