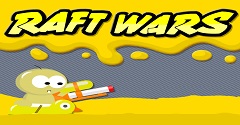 Simon has hit the jackpot. Whereas digging sand on the seaside, he finds gold and diamonds amounting to 10 million Dollars.
Fans of fishing game, before you is a very popular fishing game that will definitely fulfill your day because it is very addictive and fun.In this game you need to be as precise as possible in order to beat an enemy team. This game you can play with friends, compete with each other or you can simply play together to jointly beat the opposing team.Your island is attacked by various opponents, such as Pirates, Vikings and various kinds of gangs and criminals and it's up to you to defend every part of your island with the help of your brother.
How to play
Raft Wars Game have a lot of levels, keep in mind that each next level will be harder than the previous, but also after each traversed level you will receive a certain amount of money with which you can later upgrade your boat, so that is a good thing and don't forget to buy a better and stronger weapons such as hand grenades and much more.To beat the enemies that will shoot at you from a distance it is necessary that you took good aim on them and hit them with your weapon before they hit you, so give your best and try to be accurate when aiming.Aim at your enemy and release mouse button in order to hit your opponents, if you throw opponents into the water with your shoot, he is automatically defeated.Don't forget to upgrade your boat from time to time.
Conclusion
Raft Wars Game is very addictive, fun and most importantly, challenging game.
The level don't lasts a long time, which means that you can play these games at work or in school
if you find some free time.You can play with your friends and join forces in order to win this exciting fishing game.
Instructions
Use your mouse to aim at your opponent and to shoot on them.
Upgrade your boat and buy new weapons from time to time.