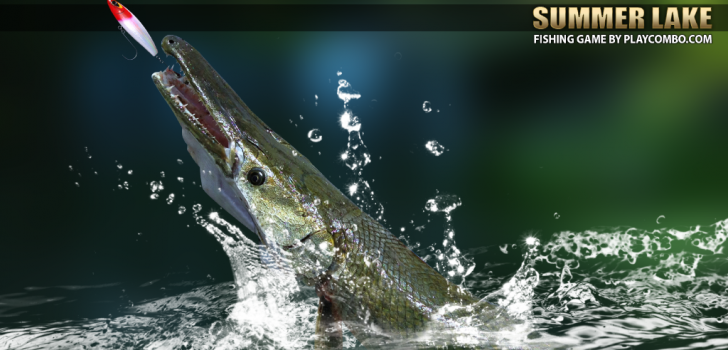 About The Summer Lake Game
New fishing game is out! Summer lake is an online fishing game where you can do a lot of different things, in this game you have plenty of possibilities! By catching a fish using your fishing rod you will earn cash, that is the main thing.
With the cash you earn you will be able to buy different lake places where you can catch different size, shape and type of fishes. Each place cost certain amount of cash, that information you can check by clicking on the left side of your screen, the menu will pop out with all kind of different options.
Lakes And Options
"Places" is the option where you can buy new lake places. You can also buy new rods, each rod has certain power, the more powerful the rod, bigger the price, so always aim for more powerful rod because in that way you can catch powerful and strong fishes that you can sell for bigger price. Rods are also looking different from each other and on some lake places you will need to use certain fishing rod, so pay attention on that. Next are lures that you gonna use to hook up on your fishing rod. You have more than 20 different types of lures that you can use, you are buying them as well from the cash that you earn. Difference between lures are in weight and of course in price.
How To Play Summer Lake
If you are a fishing fan then you will know which lure is the best to use with certain type of fish. If you know that secret, you will catch fishes much easier but still, be ready for hell of a fight because some fishes will not give up so easily. On the scoreboard you can see the players that are leading in this game, give your best, show your fishing talent and earn your place on that board!
You can turn the sound OFF and ON as well but we recommended to you to play it with the sound ON because the sound effect of the nature and animals that are around the lake is realistic and while fishing you will get that realistic feeling like you are right there on that lake. If you have problems with this fishing game you can always click on the help option that you can find by clicking on the left corner of your screen, there will be a video that will explain you everything that you need to know.
Nature, Lake And Fish
Places where you can catch a fish are really beautiful, the reflection of the water, the waves, the sound of birds and other animals that are nearby will amaze you! Prepare your fishing equipment and get ready for this Summer Lake fishing game where you can sell your catch and buy yourself much better and more powerful equipment.
The amount of cash and score that you earn will be displayed on the left side of your screen, the bigger the score, the better. When the fish is out of the lake you will see the type of the fish that you catch, its weight and the amount of points that you earn for catching that specific type of fish.
When you collect certain amount of cash you can go and unlock the new lake places where you can catch all kind of other fishes, dangerous one, with sharp teeth like piranhas, the big ones, the rare ones and so on, also the new lake places come with new beauties. Fishing enthusiast will love this game because Summer Lake will provide you with everything that you need in one online fishing game. Make the best score and enjoy playing!
Summer Lake Controls:
Use mouse to throw the bait in the desired direction. After that wait for fish to bite the bait. When this fish is on your bait you need to click on your fishing rod and to hold your mouse button until the fish is out of the lake.
You can also swing your fishing rod left and right by holding the mouse button. Pay attention on the tension line because some fishes are harder take out, they will fight they will resist so give your best!